UOB Preferred Platinum Credit Card
| | |
| --- | --- |
| | Welcome to the 5 Star Experiences with the new UOB Preferred Platinum credit card. |
Rewards
Receive accumulated rewards point every THB 20 spent. The accumulated points can be use to redeem free gifts more than easy with UOB Rewards Plus.
Faster Rewards points Earn with
10 Baht = 1 Rewards Point on spending in Dining, Department Store, Supermarket/Hypermarket and Gasoline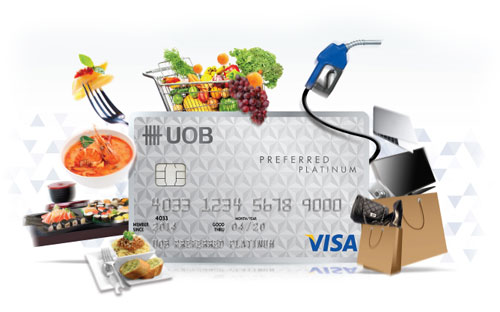 Conditions:
Extra Rewards Points is for spending up to 100,000 Baht/cycle of Dining, Department Store, and Super/Hypermarket. For spending over 100,000 Baht/cycle in those categories or spending in other categories, will get normal rewards points (20 Baht = 1 point)
Extra Rewards Points is for spending up to 10,000 Baht/cycle of Gasoline spending. For Spending over 10,000Baht
Accumulated spending mean spending which exclude Mutual Funds, Unbilled payment, Cash Withdrawal, Fund transfer, Money Exchange, Interest & Fee and cancellation transactions
Get More Happiness with Buy 1 Get 1 Free: Special Privileges 1-for-1 deals at True Coffee


1 Free 1
Get Free 1 drink when purchase any drink at True Coffee and pay by UOB Preferred Platinum Card
Get up to 13% when spending every THB800/sales slip at Caltex Gas Station Nationwide (Now – 31 Dec 17)

Travel Insurance
You are entitled to Travel Accident Insurance coverage when you fully pay travel fare and ticket(s) to be a fully licensed passenger on scheduled flight, scheduled trains, scheduled ships or public transportations by charging UOB Lady's Platinum for any overseas or domestic trips, provided that you activate call at least 2 working days before departure time through
UOB Platinum Call Center, Tel 0-2343-2929



Coverages
1. Protection against Travel accident
2. Protection against Flight Delay
3. Protection against Delayed Baggage
4. Protection against Loss of Baggage
Eligible age for coverage:
Cardholder and spouse 18 - 75 years old
Children 3 months - 23 years old (who are single and do not have earned income)
Roadside Service from AXA Assistance
Feel safe and secure wherever you go on the road with our 24-hour nationwide roadside assistance service.
Emergency auto technician service
Emergency towing service
Car rental and hotel accommodation service
Personal Assistance Service from AXA Assistance
24-hour special secretary service that feels like your own office manager such as
Hotel and restaurant reservations
Movie or plane ticket reservation service
Hard-to-find item information and locating service
For more information, please call 0-2203-9797
Convenience
Varies payment Channels : via direct debit from your account, Bank Branches, ATM, CyberBanking on www. uob.co.th, Couter of any UOBT's branches / Siam Commercial Bank / Krungsri Ayuddaya Bank, Post Office that displays the Pay at Post or by mailing a cheque and Counter Services
UOB Call Center : 24-hour assistance hotline 0-2343-2929
Worldwide acceptance at over 24 millions shops all over the world.
Monthly Income

Thais : THB 30,000 or above

Expatriates : THB 100,000 or above

Employment history

Employee : at least 1 year
Self Employed : at least 3 years

Age of Primary Cardholder

20 - 60 years old

Age of Supplementary Cardholder

18 - 65 years old