Latest Press Releases
UOB survey shows Thais are spending more this Lunar New Year as consumer confidence rises
Lunar New Year spending is set to increase this year, according to a survey released by UOB today.
UOB surveyed more than 500 Thai consumers and found that 60 per cent of the respondents said that they were planning to spend more this year on upholding traditions such as the reunion dinner, family visits and red packets.
The average budget for the Lunar New Year is expected to be 17,400 baht. The higher overall budget may be a reflection of consumer sentiment. Seven in 10 respondents expected Thailand's economic situation to stay the same while 20 percent believed it would improve from last year. Only 10 per cent of the respondents said they thought the economy would decline.
UOB economist Francis Tan said that Thai consumers are becoming more confident about the country's economy.
"The government's economic stimulus and rising wages have led to a gradual recovery in private consumption since the second quarter of 2014. Given the improved economic sentiment, we are not surprised that Thai consumers are planning to be more generous with their festive spending this year," Mr Tan said.
The generosity displayed by Thai consumers is focused primarily on showing gratitude to their family as seen by the budget allocation. According to the survey, Thais will spend the most on travelling to visit family (4,700 baht), followed by red packets (4,600 baht) and reunion dinners (4,400 baht). The budget allocated to shopping is the lowest at 3,500 baht.
Thais continue to put their family and loved ones first when giving red packets. Parents can look forward to receiving the highest amount this year at an average of 1,600 baht. Other top recipients of red packets are spouse (1,600 baht), children (1,200 baht) and siblings (1,100 baht). Those receiving the red packets are also sharing with others. One in four respondents in the survey said they are planning to give their red packet money to others or charity organisations to help the less privileged in the community.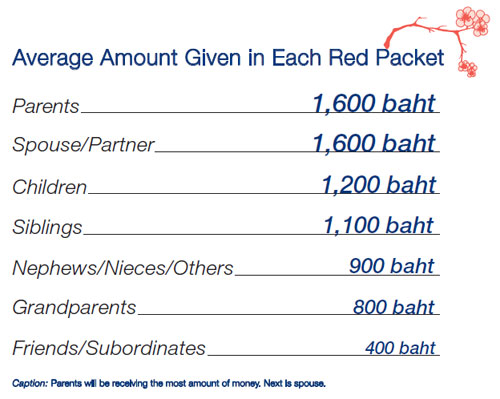 16 February 2015
For More information, please contact
Brand Performance & Corporate Communications,
United Overseas Bank (Thai) Pcl.
Parista Yuthamanop Tel. 0-2343-4965