Card Promotions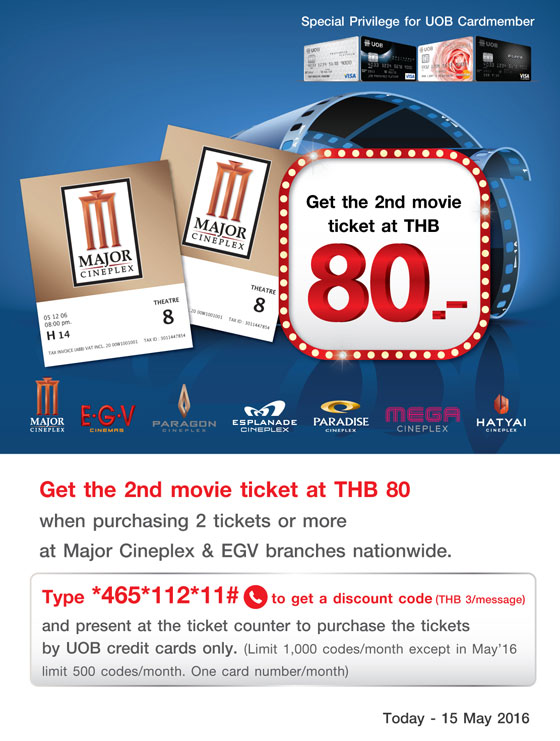 Terms and Conditions
The program is reserved for the payment by UOB credit card issued in Thailand under UOB (Thai) only (except Corporate card) from 15 May 2015 – 15 May 2016.
To get a discount code, type *465*112*11# [call] and present the code at the ticketing office to purchase the 2nd ticket at THB 80 when purchase 2 tickets or more by UOB credit cards.
The discount code is valid for one month from the processing date and will be expired after the specified date and time in the returned SMS.
The discount code is applicable for normal seats only (except VIP, First Class) with 3.5MM and 2D digital system at Major Cineplex group all branches nationwide.
Limit 1,000 codes/month except in May 2015 and May 2016 limit 500 codes/month. Limit one card number/ month.
This campaign is reserved for the primary cardholders only. The supplementary cards are not applicable.
The discount code cannot be refund, exchanged into cash or transferred to other customers.
This campaign cannot be used in conjunction with any discount promotions.
This campaign cannot be used with the payment via Mobile Application and any Online Applications.
For more information, please contact UOB Call Center at 0 2285 1555 or www.uob.co.th
The bank reserved the right to change the terms and conditions or any mistakes from printing without the prior notice. Terms and condition is as the bank specified, in case disputes, the decision of UOBT shall be absolute and final.