Promotions - UOB Mobile / Personal Internet Banking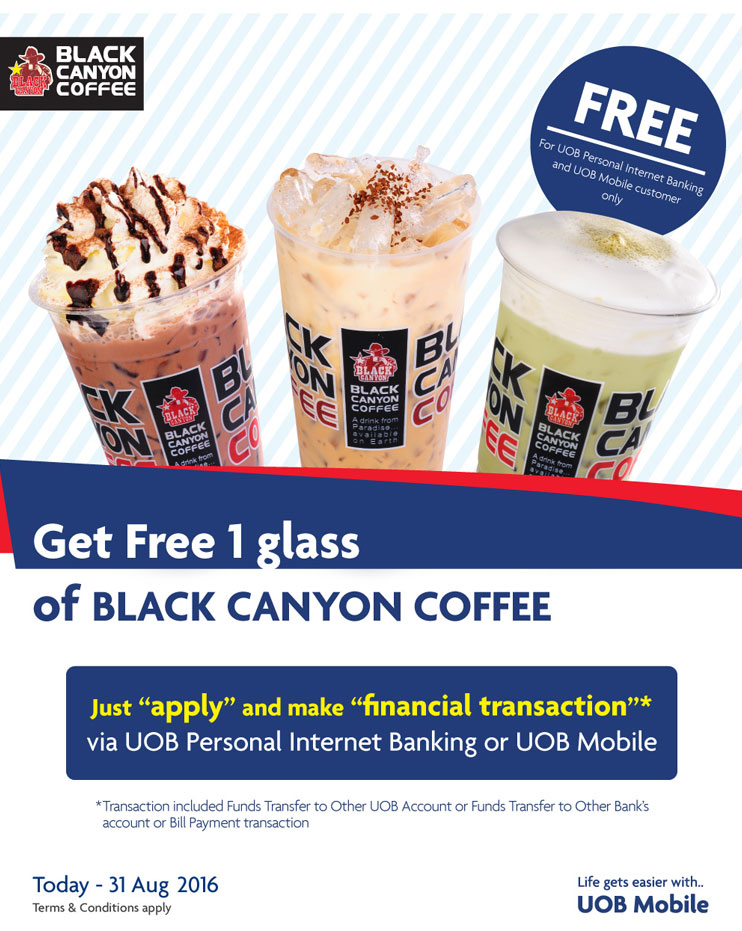 Terms and Conditions:
This campaign reserves for new customer who apply UOB Personal Internet Banking/UOB Mobile during 1 – 31 August 2016 and make at least 1 transaction of Funds Transfer to Other UOB Account or Funds Transfer to Other Bank's account or Bill Payment transaction via UOB Personal Internet Banking or UOB Mobile during 1 August – 7 September 2016. And customer can redeem 1 glass of Black canyon coffee value 70 THB until 30 September 2016.
Eligible customer will get redeem 1 glass of Black canyon coffee value 70 THB (Black canyon Iced coffee / Iced Espresso / Iced Chocolate / Iced Match Green Tea Latte) valid at any participating Black Canyon outlets. The value of 1 glass of Black canyon coffee is equivalent to an increase of 0.28% interest rate per annum which is calculated from deposit balance of 25,000 baht in August 2016 and maintaining the fund for 1 year.
Reserve 1 right per 1 customer per campaign period.
Although the customers make more than 1 qualified transaction, they will get 1 right only.
In case of customer make 1 transaction through UOB Personal Internet Banking and 1 transaction through UOB Mobile in the same period. UOB will count for 1 transaction to receive this gift.
UOB will send the SMS to inform the eligible customers through SMS-OTP number within 10th of next month.
The eligible customers have to use SMS-OTP number (AIS, DTAC and TRUE only), dial the number shown in the SMS and show the discount code to staffs and valid at any participating Black Canyon outlets during 7 – 30 September 2016.
In case the customers delete the discount code, UOB will not send the discount code to customer again.
The movie ticket (s) is/are non-exchangeable for cash or other rewards of the equivalent value.
UOB staffs can participate in this campaign.
For more information, please contact UOB Call Centre Tel. 0-2285-1555 press 4