PTTEP and UOB (Thai) partner-up for smarter business management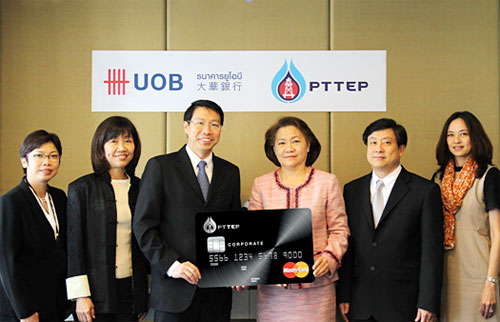 UOB (Thai) and PTTEP have launched a co-branded credit card to offer PTTEP's road warriors streamlined expense management and better control over their business spending and entertainment.
Picture placement - Khun Yuttachai Teyarachakul, Executive Director, Personal Financial Services (third from left),, Khun Pailin Ngsriwongse, Executive Director, Corporate Banking (second from left),, United Overseas Bank (Thai) PCL. with Khun Penchun Jarikasem, CFO at PTT Exploration and Production Public Company Limited (PTTEP), (fourth from left) celebrate the launch of the PTTEP-UOB Corporate Credit Card.
February 13, 2013
For More information, please contact
Brand Performance & Corporate Communications,
United Overseas Bank (Thai) Pcl.
Or Boonyaporn Vongbuikaw, Piyawadee Lapasithinukul
Tel 0-2343-4965, 0-2343-4972