UOB the first bank in Thailand to launch mobile application for small businesses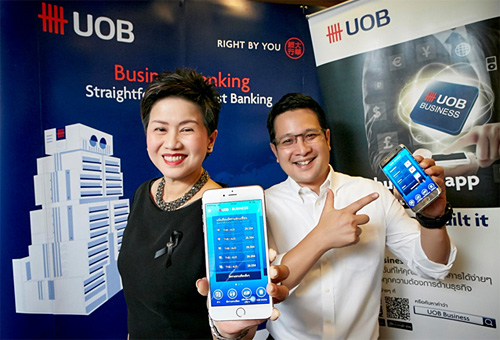 United Overseas Bank (Thai) (UOB (Thai)) today launched UOB Business, a mobile app for small businesses1,to help them manage their currency exposure and risk more effectively. This is the first such mobile app to be launched by a bank in Thailand.
The UOB Business app offers live updates on foreign exchange (FX) rates so that small companies can keep abreast of currency fluctuations. This feature helps the firms, especially those expanding overseas, to manage currency volatility and other FX risks in the course of their business. Users can set alerts for when the price of a currency reaches a specified level. Once the alert is triggered, they can use the app to connect with UOB (Thai)'s FX specialists who will be able to provide advice on FX solutions and to execute a trade.
Ms. Sayumrat Maranate, UOB (Thai)'s Country Head of Business Banking, expects demand for real-time FX information to grow as Thailand's small businesses tap opportunities arising from cross-border initiatives such as the ASEAN Economic Community (AEC). According to the UOB Asian Enterprise Survey 20162, 63 per cent of small businesses in Thailand see overseas expansion as a way to drive business growth in the next three to five years. More than seven in ten of Thailand's small businesses already operate overseas.
Ms Sayumrat said, "More and more of our customers are now conducting business outside of Thailand. For example, a Thai company could be procuring raw materials from Myanmar and then selling to local enterprises in Vietnam or Laos. As such, they are likely to deal with different currencies on a daily basis.
"Recognising their needs and to help them manage their business more efficiently, UOB is the first bank in Thailand to launch a dedicated mobile app for small businesses. The UOB Business app will complement the Bank's dedicated FX advisory unit's services, which include providing insights into market trends and advising on FX solutions to hedge against the volatility of various currencies."
Through the app, users would also be able to access the latest economic reports from UOB's Global Economics and Markets Research team and receive up-to-date business news while on the move. This enables them to keep track of market and industry developments that could affect their business or investment decisions. The app also provides information on UOB's products and services, such as loans, deposits, trade finance and cash management.
UOB Business
is available for free download in the Apple App Store and Google Play Store.
1UOB defines small businesses as companies with annual sales of less than THB400 million in Thailand.
2 This survey was conducted by UOB in May and June 2016 among 2,500 enterprises across China, Hong Kong, Indonesia, Malaysia, Singapore and Thailand. The objective was to explore how Asian enterprises are capitalising on business opportunities amid global and regional economic trends and trade flows.