UOB Painting of the Year 2017 continues to reach out to Thai artists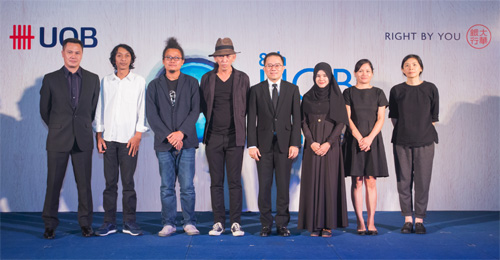 United Overseas Bank (Thai) Public Company Limited launched its 8th UOB Painting of the Year (POY) competition to encourage emerging and established Thai artists to showcase their talent at a regional level. The annual UOB POY competition is one of the most prestigious in Southeast Asia.
Mr. Sanchai Apisaksirikul, Managing Director and Country Head of Finance & Corporate Services at United Overseas Bank (Thai) Public Company Limited said the Bank's efforts to widen the appreciation of art and to nurture artistic talents are part of the Bank's long-term commitment to the communities in which it operates.
"We believe art plays an essential role in the progress of a country, its economy and its people. The youth, being the future of any society and with their fresh perspectives, play a vital role in ensuring the progress and evolution of art. As such, we remain steadfast in our support of artistic talent in children and youth so that they can contribute to the thriving art communities in Thailand and Southeast Asia. By connecting award-winning artists with the next generation of talent, we hope to hone further the skills of the young, thereby enabling more of them to express themselves creatively, to find their niche in artistic mediums and to keep the diversity of our cultural heritage alive," Mr Sanchai said
Renowned artists include Mr. Gatat Indrajati from Indonesia, Ms Minstrel Kuik Ching Chieh from Malaysia, Mr Carey Ngai from Singapore, Ms. Suwannee Sarakana from Thailand, Ajarn Amarit Choosuwan, dean of the Painting, Sculpture and Graphic Arts Faculty and one of the regional judge committees of UOB Southeast Asian Painting of the Year, the 2015 Winner Ms. Thidarat Chantachua, and the 2016 Winner from Thailand Mr. Jongjit Moolmat are gathered at the official launch to share insights, inspirations and experiences they have participated in the regional art stage.
For the full list of prizes as well as rules and regulation of the competition, please visit www.uobpoy.com
The UOB Painting of the Year winners from Thailand will be announced at an awards ceremony on 17 October 2017. The UOB Southeast Asian Painting of the Year award will go to the artist with the most outstanding work in the region. In addition, the UOB POY country winners in Indonesia, Malaysia, Singapore and Thailand will be considered for a month-long residency programme at the Fukuoka Asian Art Museum.