Transience transposed onto canvas wins the
2017 UOB Thailand Painting of the Year Competition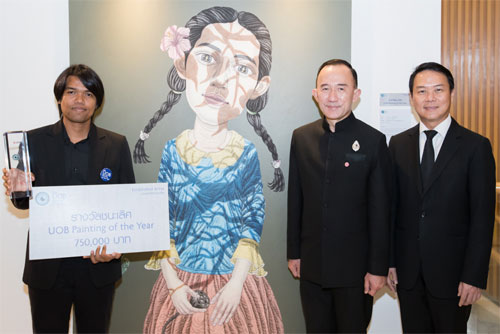 United Overseas Bank (Thailand) (UOB Thai) awarded the 2017 UOB Thailand Painting of the Year award to Mr Sukit Choosri for his painting titled 'One Life', which was inspired by his thoughts on the transience of life. The painting was chosen from among 10 finalists in the Established Artist category of the competition.
The 40-year-old artist impressed the panel of judges with his naturalistic details aimed at opening the mind to see beyond the immediate and the present. The tempera and acrylic painting depicts a young girl holding a lotus flower in her hands whose eyes reflect a silhouette of Buddha while the shadow of a decaying Bodhi tree is cast over her body. The panel was unanimous in their choice of the painting for the top award because of the artist's creativity in portraying the transience of life.
The panel of judges comprises Mr Amrit Chusuwan, Dean of the Faculty of Painting Sculpture and Graphic Arts, Silpakorn University; Professor Emeritus Dr. Santi Leksukhum, Art History Specialist; and Mr Chatvichai Promadhattavedi, Board Member and Secretary of Bangkok Art and Culture Centre Foundation Executive Board.
As part of the competition, Mr Sukit received a cash prize of US$25,000 (750,000 baht). His artwork will now compete with the winning entries from Indonesia, Malaysia and Singapore for the UOB Southeast Asian Painting of the Year Award, which will be announced on 8 November 2017.
"As a Thai artist, I am honoured to win the UOB Thailand Painting of the Year award. The competition not only provides artists with opportunities to exhibit their works on the regional and international stage, it also inspires us to persevere in having art as a career," Mr Sukit said.
In the Emerging Artist category, 24-year-old Mr Kananek Treetantiplert won the UOB Most Promising Artist of the Year award for his painting titled 'Threefold Refuge.' The oil painting on canvas portrays the contradiction of tradition and materialism in the form of its subject – an electric incense burner.
Mr Tan Choon Hin, President and Chief Executive Officer of UOB (Thai), said that the UOB Thailand Painting of the Year competition aims to showcase to a regional audience the breadth of talent and creativity in Thailand.
"Over the past eight years, the competition has helped to introduce many emerging and established Thai artists to the rest of Southeast Asia. Their success will inspire others to follow in their footsteps and to contribute to the growth of Thailand's thriving art community," Mr Tan said.
The 2017 UOB Thailand Painting of the Year winners' showcase
The winning and shortlisted paintings from both established and emerging categories will be exhibited at Bangkok Art and Culture Centre from 17 to 29 October 2017 and at UOB Head Office on Sathon Road from 30 October to 10 November 2017.
The exhibition is open to the public and admission is free.
List of winners of the 2017 UOB Thailand Painting of the Year competition
Award

Winner

Age

Artwork title

Prize money

Established Artist category

UOB Painting of the Year Award

Mr. Sukit Choosri

40

One Life

750,000 baht

Gold Award

Ms. Wanaporn Tiamungkornpun

26

Chained Thoughts

300,000 baht

Silver Award

Mr. Ketsakda Wimonsong

26

Plastic Tiger

240,000 baht

Bronze Award

Mr. Suthep Senkhong

31

Melody of Life 1

150,000 baht

Emerging Artist category

Most Promising Artist of the Year Award

Mr. Kananek Treetantiplert

24

Threefold Refuge

90,000 baht

Gold Award

Mr. Prachern Laorit

24

Reflection of Labour Life under Capitalism

75,000 baht

Silver Award

Mr. Khankit Peankaew

22

Forgiving?

45,000 baht

Bronze Award

Ms. Cholnatta Kaewkanok

25

His Majesty the King

30,000 baht